Canton High Football online


This page was last updated: October 1, 2007
Canton High School

Canton, Connecticut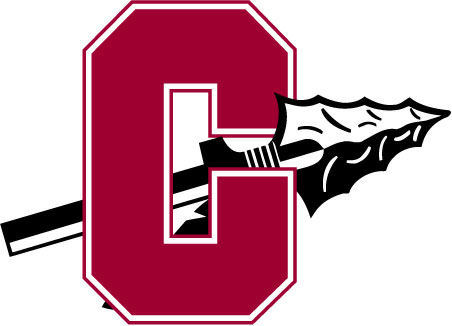 By GERRY deSIMAS, JR.

Special to The Herald Press

HIGGANUM – When Haddam-Killingworth sophomore Ryan O'Neal intercepted a pass with 1:20 left in the game and began running downfield toward the goal line, Cougar coach Dennis O'Rourke's heart skipped a beat.

But he breathed a sign of relief when O'Neal stepped out of bounds at the Canton 25-yard line after a 15-yard return. O'Rourke was nervous because his Cougars held a 48-point lead and he could have faced a possible suspension from the CIAC for winning by 50 points or more.

Haddam Killingworth (3-0) easily won its third straight game with a convincing 48-0 win over Canton Saturday but the prospect of O'Rouke being suspended hung like a dark shadow over the second half of play.

To stop blowout wins by high school football teams, the CIAC passed a rule in 2006 mandating that the head coach to be suspended one game if his team won by 50 points or more. In 2006, two teams won by 50 points or more. An appeal by Bridgeport Central's Dave Cadelina was upheld after his team's 56-0 win but East Hartford coach Dan Lawrence was suspended for a game when his school chose not to appeal the suspension after a 60-0 win.

After the Cougars scored with 4:12 left in the third quarter to increase its lead to 48-0, HK took a knee on a two-point conversion attempt. The second half was played under running time and the junior varsity played the entire second half.

But on several plays, the Cougars simply ran into the line and stopped to be tackled. And the Cougars had instructions to run out of bounds instead of scoring on a defensive turnover as O'Neal did in the final two minutes.

As a courtesy to the Cougars, Canton also played their smaller junior varsity players in the second half to avoid any potential injury situations. However, the notion of no scoring dampened the enthusiasm of the second half.

"You have the junior varsity kids who work hard all week and get an opportunity to play in the varsity game and it's exciting for them," O'Rourke said. "But to tell them to fall down or run out of bounds is kind of humiliating for everybody because it's obvious."

In 31 years as coach of the Cougars, O'Rourke has been on the other end of some very lopsided defeats that have been discouraging and even humiliating. But he doesn't like this current 50-point rule. "I don't think I have to be legislated," he said.

Canton coach Graham Martin previously coached for 23 years at Bulkeley in Hartford. "I would never squawk about anyone 60 or 70 points," he said. "We didn't come to play. When the bell rang, we didn't respond. I'm not sure if we even came out of the corner."

There was no question about Haddam Killingworth's performance. The Cougars scored 29 points in the first quarter and led 42-0 at halftime.

"I wanted them to come out and play with an attitude and play aggressive and they certainly did," O'Rourke said.

The Cougars led 7-0 when Canton (0-2) lined up to punt. But the snap sailed over the head of punter Jake Burditt, who tried to run with the ball but lost it when he was hit by Greg Zak. H-K's Joe Van Huysen caught the ball on a hop and rambled 17 yards for the touchdown.

Canton was forced to punt on its next possession and the snap was too low, giving H-K's Eric Auer enough time to block the punt and scoop it up for a touchdown to give the Cougars a 23-0 lead with 7:26 left in the first quarter.

In two games, it was the fourth TD allowed by Canton due to special team errors.

H-K extended the lead to 29-0 on an eight-yard run by Chris Arrigoni with 5:03 left in the second quarter and made it 35-0 on an 85-yard run by Jarrod Ramsey with 9:07 left in the quarter.

Ramsey led all rushers with 112 yards on four carries. H-K rushed for 293 yards as a team and attempted just one pass.

Canton played its first varsity game since 1964 a week ago, losing to Stafford, 22-16. A year ago, they fielded a club team for the first time and with just seven seniors, the Warriors are clearly a young, inexperienced team. Most never played organized football before last season.

n Follow the Warriors all season long here at Canton Football Online

Fifty-point rule puts damper on Cougar victory

Haddam Killingworth 48, Canton 0

At Higganum

H-K (3-0)

29  13   6  0  -- 48
Canton (0-2)       0    0  0  0  -- 0

First quarter

HK: Sal Zichichi 15 run (Rosendo Mendoza kick), 10:50

HK: Joe Van Huysen 17 fumble recovery (Jarrod Ramsey run), 9:05

HK: Eric Auer 44 block punt (Ramsey run), 7:26

HK: Chris Arrigoni 8 run (pass fails), 5:03

Second quarter

HK: Ramsey 8 run (kick fails), 9:07

HK: Nick Kanaras 11 run (Mendoza kick), 5:45

Third quarter

HK: Justin Simmers 3 run (run fails), 4:12

Individual statistics

RUSHING: HK – Jarrod Ramsey 4-112, Chris Arrigoni 5-59, Sal Zichichi 2-16, David Bartolotta 5-19, Nick Kanaras 1-11, Adam Cubeta 1-4, Tyler Scovill 3-36, Justin Simmers 3-12, Ryan O'Neal 4-12, Rob Kolodziej 2-1, Derek Filosi 2-4, Sean Reynolds 2-8, Randall Reynolds 1-minus 1; Canton – Nick Grabowski 2-minus 3, Luke Talbot 8-29, Samuel Hartzell 9-9, Nick Delvecchio 5-22, Michael Fraser 6-28, Jake Burditt 2-minus 14, Justin Rice 4-minus 3

PASSING: HK – Robert Flynn 0-1-0, 0 yards; Canton – Nick Delvecchio 9-21-1, 110 yards; Nick Grabowski 1-6-1, 0 yards

RECEIVING: Canton – Christian Plourd 3-66, Mike D'Apice 1-7, Jake Burditt 1-14, Luke Mentzer 2-5, Justin Rice 2-15

MISSED FIELD GOALS: none

Rebirth of Canton Football

Notable firsts

First run: Justin Rice, 2 yards vs. Stafford, Sept. 21, 2007

First pass: Nick Delvecchio, incomplete vs. Stafford

First reception: Luke Mentzer, 2 yards vs. Stafford

First score: Justin Rice, 1 yard run vs. Stafford

First TD run: Rice vs. Stafford, 1 yard run

First TD reception: Luke Mentzer 48 pass from Nick Delvecchio vs. Stafford

First punt return for TD: TBA

First kickoff return for TD: TBA

First field goal: TBA

First safety: TBA

First extra point: TBA

First 2-point conversion: TBA

First interception: Tyler Plourd vs. Stafford

First sack: TBA

The following story was published in the Middletown edition of The Herald Press on Sunday, Sept. 30, 2007