Canton High Football online


This page was last updated: September 13, 2014
Canton High School

Canton, Connecticut

n Head coach Paul Philippon

Canton 35, SMSA/University 6

At Hartford

Canton (1-0)            14  7  7  7  — 35

SMSA/Univ. (0-1)       0  6  0  0  — 6

First quarter

C: Cam Daley 33 run (Eddie Melton kick), 8:24

C: Dan Delos 8 run (Melton kick), 3:52

Second quarter

S: Nicholas Lajara 4 pass from George Davis (run fails), 6:35

C: Delos 5 run (Melton kick), 0:30

Third quarter

C: Melton 10 pass from Alex Higley (Melton kick), 2:33

Fourth quarter

C: Daley 5 run (Melton kick), 2:25

Individual statistics

RUSHING: Canton – Dan Delos 21-91, Cam Daley 17-107, Eddie Melton 2-19, Henry Bonini 2-5, Alex Higley 1-0; SMSA/Univ. –  Eliyah Nyama 8-23, George Davis 3-minus 27, Allen Walker 5-7, Pharoh Mathis 2-minus 2

PASSING: Canton – Alex Higley 2-4-0, 31; Cam Daley 1-2-0, 32; SMSA/Univ. – George Davis 6-14-1, 56, Blake Breglia 2-5-0, 19

RECEIVING: Canton – Cam Daley 1-21, Eddie Melton 2-32; SMSA/Univ. – Devyn Lozada 4-34, Nicholas Lajara 2-16, Daunte Brinkley 1-14, Gary Miller 1-11

RETURNS: Canton – Daley 1-10 (punt), Delos 1-23 (kickoff); SMSA/Univ. – Lajara 3-37, Brinkley 1-10

INTERCEPTION: Canton – Mekiah Davis 1-1; SACKS: Delos 1-4, Liam Yurchick (Canton) 1-13; FUMBLE RECOVERY: Lajara (SMSA)

2013 individual leaders

FINAL (11 games)

RUSHING    Att-Yds  TDs

Brophy            152-936   10

Delos              128-737   14

Scott                  51-256     1

Gumbs             45-214     2

Daley                 29-139     3

Cole                     8-60       1

Amoroso             6-16       1

Others: Melton 13-39, Harden 10-24, Steinfeldt 5-18,  Higley 2-15, Kiah Davis 3-13, Wilson 1-3

PASSING    C-Att-Int    Yds  TDs

Scott            58-120-7  1170  11

Gumbs          1-2-0         30     1

RECEIVING  C-Yds  TD

Gumbs           20-410    2

Daley              18-309     1

Wood              10-253    5

Wilson              6-185     4

Zukowski          2-26      0

Delos                 1-6        0

Brophy               1-6        0

POINTS      TDs PAT 2pt  Pts

Delos        14-0    0      3    90

Brophy      10-0    0      1     62

Melton         0-0    28   0      31*

Wood          0-5    0      0      30

Wilson        0-4    0      0      24

Daley          3-1     0     0      24

Gumbs       2-2    0      0      24

Cole            1-0    0      0      6

Permenter  0-0    0     0      6**

Scott            0-1    0      0      6

Amoroso    1-0     0     0      6

Team                                    2***

*Has kicked 1 FG

**Scored on a punt return

***Safety

FIELD GOALS: Melton 1 (20)

PATS:  Melton 28-32

INTERCEPTIONS (14): Gumbs 7-84, Daley 5-91, Lawlor 1-20, Wilson 1-0

SACKS (6): Toland 2-37, Lawlor 1-7, Delos 1-14, Parchen 1/2-19, Bangs 1/2-9, Bonini 1/2-4, Amoroso 1/2-4

FUMBLE RECOVERY (13): Brophy 2, Delos 2, Gumbs 2, Bonini 2, Lawlor 2, Daley 1, Bangs 1, Wood 1

KICKOFF RETURNS: Daley 15-268, Gumbs 8-167, Wood 2-30, Bangs 2-25, Wilson 1-13, Delos 1-9, Melton 1-0

PUNT RETURNS: Gumbs 9-65, Scott 6-209, Daley 2-52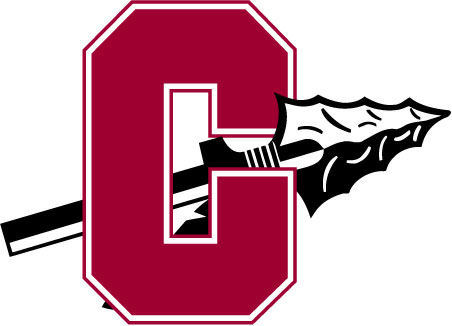 Site established Sept. 2006

2014 Canton High football

Thur. Sept. 11: Canton 35, SMSA/University 6

Friday, Sept. 19: at Stafford/East Windsor, 6:30 p.m.

Sat. Sept. 27: ELLINGTON/SOMERS, 1:30 p.m.

Friday, Oct. 3: at Coventry/Windham Tech/Bolton, 7 p.m.

Sat. Oct. 11: at Windsor Locks/Suffield/East Granby, 1 p.m.

Sat. Oct. 18: MORGAN, 1:30 p.m.

Sat. Oct. 25: ENFIELD, 7 p.m.

Sat. Nov. 1: at Gilbert/Northwestern, 1 p.m.

Sat. Nov. 8: HYDE, 1:30 p.m.

Sat. Nov. 15: AVON. 1:30 p.m.

Thur. Nov. 27: GRANBY, 10:30 a.m.

2014 record

Overall: 1-0

Pequot Uncas: 1-0

Canton marches past SMSA to win opener

HARTFORD, Sept. 11 -- Canton ran for 222 yards and had three long scoring drives of 10 or more plays as the Warriors rolled to a 35-6 Pequot Conference Uncas Division win on opening night. On the other side of the ball, Canton gave up just one yard rushing to the Tigerhawks and had an interception, two sacks and seven tackles for losses. Senior Cam Daley was all over the field. He ran 17 times for a career-high 107 yards and two touchdowns. He caught a 21-yard pass from sophomore quarterback Alex Higley and completed 1-of-2 passes for 32 yards. "He was born a football player," Canton coach Paul Philippon joked afterward.

Week 1 preview

Canton opens season in Hartford on Thursday night

Outlook: Canton has a core of experienced players returning this year including senior Cam Daley, Sebby Gumbs, Henry Bonini and Dan Delos. Looking for their third straight winning season, Canton makes its second-ever visit to Dillon Stadium in Hartford. The Warriors beat the Tigerhawks, 20-14 in 2012. … SMSA/University is coached by Graham Martin, who coached Canton for two years when the program was resurrected in 2007. The Tigerhawks lost All-Pequot QB Wilfred Alicea, who ran for over 1,500 yards and 13 TDs. But SMSA/University does return some talented players including junior tight end/DE Devyn Lozada (10-116), senior WR Nick Lajara (8-161, 2 TDs) and senior WR Daunte Brinkley. … A year ago, Canton won its first opening day contest since 1958 by scoring a touchdown on the final play to beat Avon, 16-13. … Canton is 7-1 in its last eight games under the lights. … This is Canton's first season opener under the lights.

Opening day records: Canton 15-20, SMSA/University 1-13-1

Series: Began 2011. Tied 1-1

With talented core of players, Canton could be a contender

The Canton High football team isn't blessed with a lot of players. There are just 27 boys in the program. However, the players Canton have on the field are pretty good. "We have a nice nucleus of players who have played a lot of varsity football the last two years," Canton coach Paul Philippon said. "They've paid their dues in the weight room. We're a stronger team that we have been the past two years."

Philippon isn't looking past the opening day contest at Dillon Stadium against SMSA/University on Thursday, Sept. 11. "I'm not thinking about (an Uncas) Division title," he said. "The focus is on beating SMSA. It's everything we have for each game. I feel good about this team. We can compete with anyone. I just want to score more points than they do."

If they stay healthy and play the disciplined type of football that Philippon and his staff demand of them, Canton could contend for the Uncas Division championship and perhaps one of the eight spots in the Class S tournament.

Pequot moves back to

two division format

AVON, May 26, 2014 -- With Housatonic dropping its varsity program due to a low number of players, the Pequot Conference has modified its schedule and divisions. In 2013, the Pequot moved to a three division format with seven teams in each division (West, North, South). With 20 varsity teams, the league is moving back to its two division format (Uncas and Sassacus) that the Pequot used from 1993 to 2012. Canton moves back into the Uncas Division.

Five Canton players earn All-Pequot West honors

CANTON, January 1 – Canton had five players named to the All-Pequot Western Division All-Star team in balloting by the league coaches. Offensive lineman Pierre Walsh, utility player Sebby Gumbs, punter Eric Scott, DB Cam Daley and defensive lineman Shane Toland were recognized. It's the second year in a row that Daley and Gumbs have earned All-Pequot honors.

Daley made big plays on both sides of the ball. Defensively, he led the Warriors with 106 tackles and had five interceptions. Offensively, he chipped in where he could. Gumbs is one of Canton's most explosive players who can be deployed in a variety of positions.

Walsh was one of Canton's most consistent linemen at left tackle. He helped the Warriors score a school-record 313 points this season. Toland had an outstanding season and was the team's leading tackler on the defensive line with 60 stops and 1½ sacks.

Scott was Canton's QB but he averaged 32.4 yards a kick as a punter.

More Canton sports coverage at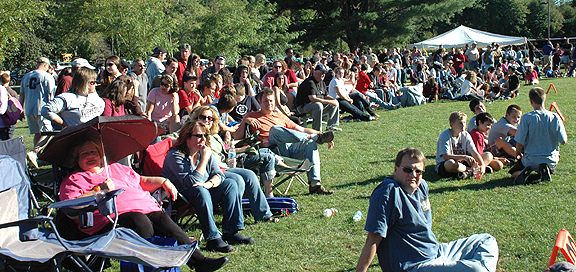 n  Fans crowd around the Canton High football field for the first home game at the high school in 2009.

Latest news and information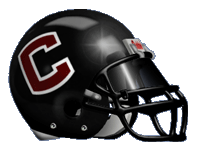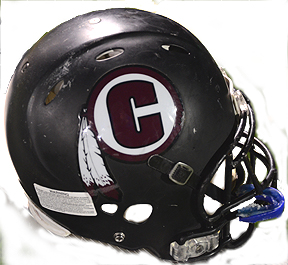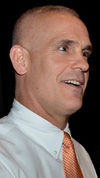 n The Warriors and their fans celebrate Terrence Brophy's 6-yard TD run with no time left on the clock to give Canton a 16-13 win over Avon in the season opening game.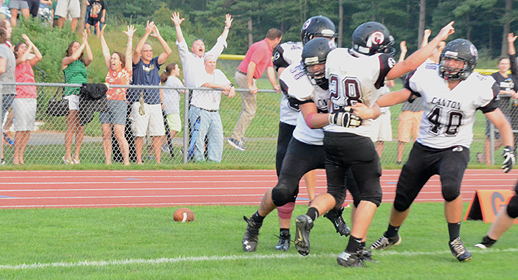 n Canton hosted its first-ever night game on its new multi-purpose field vs. Lewis Mills.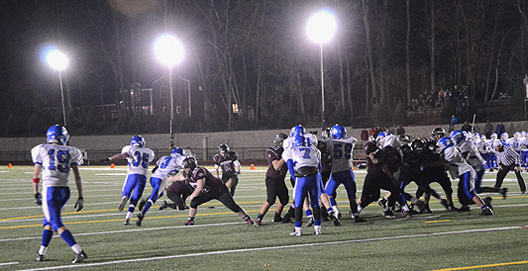 n Canton's Cam Daley (3) scored two TDs and ran for a career-high 107 yards in Thursday night's win over SMSA/University in Hartford.