Canton High Football online


This page was last updated: November 13, 2007
Canton High School

Canton, Connecticut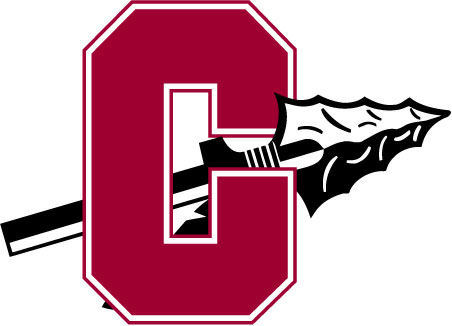 By GERRY deSIMAS, Jr.

Canton Football Online

AVON, Nov. 10  – They've lost eight straight games but the Canton High football team anxiously awaits its final two games on Saturday against Gilbert/Northwestern in Winsted and on Thanksgiving Eve against Vinal Tech/Coginchaug at Palmer Field in Middletown.

There have been plenty of achievements in their first eight games but it hasn't added up to a victory – yet.

"Even though we haven't won a game, the offensive line has improved so much I can't even explain it," Canton quarterback Nick Delvecchio said. "We're doing a lot better on defense. We used to let teams run all over us, even on kickoffs. Every aspect has improved a lot."

Delvecchio ran for 66 yards and 3 touchdowns on 17 carries in Saturday's 42-26 loss to Avon. Freshman Mike Frazier ran for 60 yards on 14 carries. Delvecchio also completed 11 of 20 passes for 130 yards.

"It's probably been four weeks since we really started to put the components together," Canton coach Graham Martin said. "We're still making mistakes that hurt us. But we can run the ball and we can sustain some series. We just have to be able to keep that switch on all the time."

Avon coach Brett Quinion said that the Warrior offensive line was more physical than his Falcon defense. That concerns him as Avon (8-1, 7-0 Pequot Uncas) prepares to play Ellington/Somers (7-1, 5-1) for the Pequot Uncas championship on Saturday. "We have a lot of work to do to get ready," he said. "(Ellington) runs a lot of traps inside and that is what Canton hurt us with today."

Offensively, the Falcons were too much for Canton (0-8, 0-4 Pequot Uncas) and its young defense. Junior Mike D'Onofrio scored five touchdowns for the second game in a row to carry the Falcons, who have won eight straight – its longest winning streak since 1983.

"Our tackling isn't the best in the world," Martin said with a grin and a shrug. "We work on it like you wouldn't believe but its just not working out for us right now because we are so young. Sixty-two percent of our defense is freshmen and sophomores. You'll live and die with them and we've been dying with them. But we're getting better."

Canton did recover a pair of fumbles against Avon and had a pair of sacks, including freshman Nate Getler who sacked Avon QB David Wyrick on the final play of the first half. One play earlier, Wyrick had completed a 17-yard pass to Andy Roell for an apparent touchdown but it was called back due to a penalty.

After fumbling the ball away on its first offensive play, Avon marched 66 yards on five plays to take a 7-0 lead. But Canton responded with a 65-yard march of its own to cut the lead to one, 7-6 on a one-yard run by Justin Rice.

Canton converted twice on fourth down to keep the drive alive. On fourth-and-one from its own 44, Rice powered over the left side for a seven-yard gain. Four plays later on fourth-and-10 from the Falcon 49, punter Jake Burditt pushed an ugly pass to freshman Tyler Plourd for a 17-yard gain.

Avon scored on five of its next six possessions to take a 42-12 lead. The game was over but Canton continued to work, scoring on its final two possessions.

On its final scoring drive, Canton drove 85 yards in 1:43 with Delvecchio completing four of 8 passes for 54 yards including a 13-yard completion to Mike D'Apice and a 18-yard completion to Plourd over the middle with 20 seconds left to the Avon 2. Delvecchio scored with 4 seconds left.

It could prove beneficial in the games with Gilbert (1-7) and Vinal Tech (0-8).

This entire season has been about the future and building a foundation of success for this program. Before every game, the Warriors work out in the weight room.

"With working out in the weight room and off-season conditioning, we should be a much stronger, more formidable and much more competitive team next year," Martin said. "We're competitive now and we don't quit. But we need some people to step up and make some plays."

Two years ago, Canton football was simply an idea. A year ago, the Warriors were a club team playing junior varsity teams. This year, Canton is playing varsity football for the first time since 1964 and they've been close to winning.

In the opener against Stafford, the game was tied and looking to go into overtime before the Bulldogs scored in the final 16 seconds to win, 24-18. Against Valley Regional, Canton erased a 20-point deficit to take a 36-35 lead in the fourth quarter only to see Valley win with a TD run with 4:50 remaining but not before Canton drove to the Valley 20.

NOTES: Jake Burditt completed a two-point conversion pass to Mike D'Apice in the fourth quarter. It is the first two-point conversion pass of the season and first since 1963 against Housatonic. ... Justin Rice's 1-yard TD run was the first points that Canton has ever scored against Avon. The Falcons had shutout Canton in 1960, 1963 and 1964.

Falcons run past Canton for 8th straight win

AVON, Nov. 10 – The Falcons may not have expected such a competitive spirit from a winless football team in its first varsity season in 43 years. But behind junior Mike D'Onofrio and QB David Wyrick, Avon scored on seven of its first nine possessions to win their eighth straight game with a 42-26 win over Canton on Senior Day.

For the third time this year, D'Onofrio scored five TDs in a single game. He led all rushers with 177 yards on 17 carries and established new single-season records for TDs (20) and points (130). D'Onofrio has scored 10 TDs in his last two games. Wyrick completed 6-of-8 passes for 118 yards and a TD.

The victory moves Avon (8-1, 7-0 Pequot Uncas) into position to win its first championship since capturing a NCCC title in 1993. The Falcons play Ellington/Somers (7-1, 5-1 Pequot Uncas) for the title on Saturday in Ellington.

"Offensively, we played OK. Defensive, we had a lot of problems and didn't play that well," Avon coach Brett Quinion said. "We have a lot of work to do to get ready. (Ellington) runs a lot of traps inside and that is what Canton hurt us with today."

Canton QB Nick Delvecchio rushed for 66 yards on 17 carries and three TDs. The Warriors (0-8, 0-4 Pequot Uncas) scored a pair of TDs in the final 5:39 to tighten the final score.

PLAYOFF UPDATE: Avon didn't get much help this weekend in its bid to earn a CIAC playoff berth for the first time. Jonathan Law easily beat Hillhouse, 36-8 and Berlin beat Middletown, 29-19. Avon remains the sixth seed in Class M and the top four qualify for the playoffs.

NOTES: Seniors Billy Kenyon, Bobby Pearson, Reggie May, Zak Locke and Andy Roell were honored in pre-game ceremonies. … D'Onofrio's 20 TDs breaks the old record set by Tim Gillett (16) in 1994. … D'Onofrio's 130 points breaks the old record set by Gillett in 1994 (102). .. Wyrick was 6-for-6 kicking extra points against Canton and he broke the school record for most PATs in a season. Wyrick now has 26, breaking the old record of 23 set by Dan McCollum in 1993. … Avon's current eight-game winning streak is the longest since the Falcons won eight in a row in 1983. They also had an eight-game winning streak in 1980-81. The school record is 11 straight wins, set in 1966-67.

Warriors continue to improve in loss

Avon 42, Canton 26

At Avon

Canton (0-8)     6  0    6  14 – 26

Avon (8-1)      14  7  14    7 – 42

First quarter

A: Mike D'Onofrio 13 run (David Wyrick kick), 7:54

C: Justin Rice 1 run (kick blocked), 2:20

A: M. D'Onofrio 5 run (Wyrick kick), 0:55

Second quarter

A: M. D'Onofrio 3 run (Wyrick kick), 3:19

Third quarter

A: M. D'Onofrio 38 run (Wyrick kick), 10:26

C: Nick Delvecchio 2 run (pass fails), 7:22

A: Andy Roell 30 pass from Wyrick (Wyrick kick), 4:54

Fourth quarter

A: M. D'Onofrio 14 run (Wyrick kick), 11:54

C: Delvecchio 8 run (Mike D'Apice pass from Jake Burditt), 5:39

C: Delvecchio 2 run (pass fails), 0:04

Individual statistics

RUSHING: Avon – Billy Kenyon 3-24, Patrick Leszcynski 3-7, Joe Tripodi 2-7, Kyle Livingstone 1-5, Mike D'Onofrio 17-177, Ross McDonald 3-42, David Wyrick 6-63, Terence Olsen 1-7, Andy Livingstone 1-minus 1, Cody Jedidian 1-minus 2; Canton – Kyle Bento 1-0, Justin Rice 9-32, Nick Delvecchio 17-66, Mike Frazier 14-60, David White 8-13, Sam Hartzel 1-8

PASSING: Avon – Wyrick 6-8-0, 118; Canton – Delvecchio 11-20-0, 130; Jake Burditt 1-1, 17

RECEIVING: Avon – Terence Olsen 4-50, McDonald 1-38, Andy Roell 1-30; Canton -- Jake Burditt 5-47, Tyler Plourd 4-70, Luke Mentzer 1-minus 1, Mike D'Apice 2-31

RETURNS: Avon – Mike D'Onofrio 2-30 (punts), 1-30 (kickoffs), Ethan Schreoder 1-0 (kickoff), Wyrick 1-0 (kickoff), McDonald 2-38 (kickoff); Canton – Tyler Plourd 1-15 (kickoff), Mike Frazier 1-5 (kickoff), Jake Burditt 3-33 (kickoff), Luke Mentzer 2-39 (kickoff)

SACKS: Nate Getler (Ca) 1½-11, Ethan Bealevander (Ca) 1-6; Fumble recovery: Kyle Bento (Ca) 1, Nathan Scott (Ca) 1

Rebirth of Canton Football

Notable firsts

First run: Justin Rice, 2 yards vs. Stafford, Sept. 21, 2007

First pass: Nick Delvecchio, incomplete vs. Stafford

First reception: Luke Mentzer, 2 yards vs. Stafford

First score: Justin Rice, 1 yard run vs. Stafford

First TD run: Rice vs. Stafford, 1 yard run

First TD reception: Luke Mentzer 48 pass from Nick Delvecchio vs. Stafford

First punt return for TD: TBA

First kickoff return for TD: TBA

First field goal: TBA

First safety: TBA

First extra point: Jeff Nasson vs. Old Saybrook,  Oct. 6, 2007

First 2-point conversion: Nick Delvecchio run vs. Housatonic, Oct. 13, 2007

First interception: Tyler Plourd vs. Stafford

First sack: TBA