Canton High Football online


This page was last updated: November 3, 2008
Canton High School

Canton, Connecticut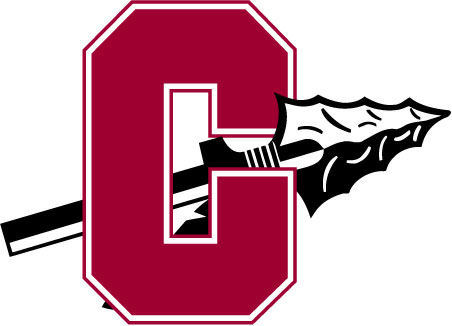 Canton makes encouraging progress in loss

Avon 34, Canton 0

At Canton

Avon (6-2)

0  14  6  14  -- 34
Canton (1-6)       0    0  0    0  --  0

Second quarter

A: Mike D'Onofrio 55 pass from Andy Livingstone (Dave Wyrick kick)

A: M. D'Onofrio 15 run (Wyrick kick)

Third quarter

A: M. D'Onofrio 5 run (kick wide)

Fourth quarter

A: M. D'Onofrio 4 run (Wyrick kick)

A: Ross McDonald 64 run (Wyrick kick)

Individual statistics

RUSHING: Avon – Pat Leszczynski 2-3, Ross McDonald 9-95, Mike D'Onofrio 19-95, Vince Savarese 2-22, Andy Livingstone 2-13; Canton – Nick Grabowski 11-minus 9, Greg Cole 1-2, Luke Talbot 8-17, Mike Frazer 20-79, Joshia Durbois 1-minus 5

PASSING: Avon – Andy Livingstone 6-8-0, 101; Canton – Nick Grabowski 5-11-0, 38

RECEIVING: Avon – Mike D'Onofrio 3-70, John Ponziani 1-13, Stolzenberg 1-7, Tyler D'Onofrio 1-11; Canton – Tyler Plourd 2-21, Luke Talbot 2-13, Greg Cole 1-4

RETURNS: Canton – Plourd 3-39 (kickoffs), Nick Quattro  3-18 (kickoffs); Avon – Mike Dugan 1-0 (kickoffs), Mike D'Onofrio 2-9 (punts)

SACKS: Avon – Mitch McPherson ½ -1, D.J. McDonald 2 ½ -18, Mike Dugan ½ -14

Penalties: Avon 4-50, Canton 1-15

Rebirth of Canton Football

Notable firsts

First run: Justin Rice, 2 yards vs. Stafford, Sept. 21, 2007

First pass: Nick Delvecchio, incomplete vs. Stafford

First reception: Luke Mentzer, 2 yards vs. Stafford

First score: Justin Rice, 1 yard run vs. Stafford

First TD run: Rice vs. Stafford, 1 yard run

First TD reception: Luke Mentzer 48 pass from Nick Delvecchio vs. Stafford

First punt return for TD: TBA

First kickoff return for TD: TBA

First field goal: Jeff Nasson vs. Stafford/East Windsor, Oct. 24, 2008

First safety: TBA

First extra point: Jeff Nasson vs. Old Saybrook,  Oct. 6, 2007

First 2-point conversion: Nick Delvecchio run vs. Housatonic, Oct. 13, 2007

First interception: Tyler Plourd vs. Stafford

First sack: unknown

By GERRY deSIMAS, JR.

Canton Football Online

CANTON, Nov. 1, 2008 – After he had talked to his team following a 34-0 win over Canton Saturday afternoon, Avon High football coach Brett Quinion looked up and saw that the Warriors were still in a huddle listening to head coach Roger Pearl.

Quinion picked up the pace and jogged over and offered some words of encouragement to the second-year varsity team.

"I told them I was very impressed with them," Quinion said. "I saw them last week against Stafford (an 11-10 defeat) and this was a totally different team today. I challenged them to get over the hump. There is no reason if they play this physical and execute why they can't get over the hump."

The Warriors (1-6, 1-5 Pequot Uncas) may have lost their fifth straight game but they were in the game. On Avon's first drive, the Warriors stopped them at their own 13-yard line on a fourth-and-one play. On Avon's next drive, they ran just three plays, gained six yards and had to punt.

On the other side of the ball, Mike Frazer returned to the starting lineup after missing a few games with injuries. He sparked the Canton offense that gained four first downs on its opening drive marched to the Avon 9-yard line. But the drive stalled thanks to a 15-yard penalty for blocking the back.

On Canton's second drive, the Warriors marched to the Avon 30 before the drive stalled. Avon rose to the challenge on fourth down and 1, hitting Frazer (20-79) for a one-yard loss.

"This is the best team we've faced in two years and our kids hung in there right to the end," Canton coach Roger Pearl said. "They didn't give up. Avon knew that they were in a football game."

But Avon (6-2, 6-0 Pequot Uncas) had more talent including All-State back Mike D'Onofrio, who scored four TDs and rushed for a game-high 95 yards.

On third down and 11 yards from the Avon 45, Avon QB Andy Livingstone (6-of-8, 101 yards) found D'Onofrio with a short five-yard pass but D'Onofrio found some open room down the left sideline and weaved his way to the end zone with a 55-yard TD reception for a 7-0 lead after David Wyrick's extra point.

Avon's defense then stood tall. Canton lost five yards on a fumbled snap they recovered and Frazer was stood up at the line of scrimmage for no gain on second down. On third down, Avon's Dan Matthews stripped the ball from Canton QB Nick Grabowski. The Warriors recovered but lost seven yards.

After the punt, Avon drove 33 yards on four plays with D'Onofrio racing in from 15 yards for a 14-0 lead.

Canton drove to the Falcon 35 in the final minute of the second quarter but consecutive sacks of Grabowski by Mitch McPherson and D.L. McDonald stopped that drive.

In the third quarter, Canton gained just seven yards on its first three offensive possessions. Meanwhile, Avon scored on its first three possessions to open up a 34-0 lead.

But after a very disappointing loss to Stafford/East Windsor a week ago in a game that Canton thought they could win, Pearl was pleased with the effort against Avon, which still has a realistic chance to qualify for the CIAC Class M playoffs.

"This week, we came off the ball better and our front line did well," Pearl said. "We ran hard. We got a few people back (into the lineup after injuries).

"We just played harder and we played with heart," he said. "It's a moral victory. It's not a real victory but it's a good stepping stone for us."

The trick is to build on the good effort in the next game. And build on that in the game after that. Canton will be challenged next week against Tolland in the final home game of the year before finishing the season with three straight road games at Gilbert, Old Saybrook and Vinal Tech on Thanksgiving Eve at Palmer Field.

The Warriors made several fine defensive stops in the game.

Kyle Bento and Nate Scott made the big hit on D'Onofrio on a fourth down and 1 play at the Canton 13 in the game's opening drive. D'Onofrio tried to run up the middle for the first down but ran into Bento and Scott and Avon was forced to turn the ball over on downs.

Nate Getler got into the backfield and hit D'Onofrio for a three-yard loss early in the second quarter. Late in the first quarter, Greg Cole and Tomas Cruz combined to stop D'Onofrio on an attempted reverse for another three-yard loss.

NOTES: Avon has shutout Canton in four of the five games the two schools played. They also allowed no points to Canton in 1960, 1963 and 1964. …