Canton High Football online


This page was last updated: November 23, 2008
Canton High School

Canton, Connecticut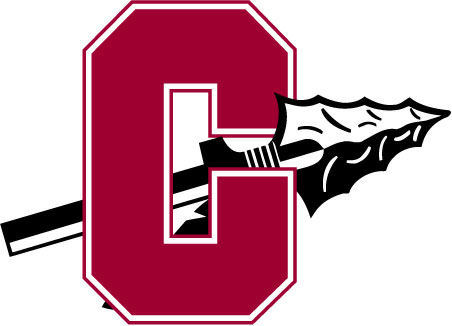 Canton forces

six turnovers in win over Gilbert

Canton 38, Gilbert 12

At Winsted

Canton (2-8)   20  11  0  7 -- 38

Gilbert (4-6)      0   8  6  0 – 12

First quarter

C: Luke Talbot 14 run (kick fails), 8:49

C: Talbot 15 run (Nick Grabowski run), 5:49

C: Nate Scott recovers fumble in end zone (kick fails), 3:34

Second quarter

C: Mike Frazier 2 run (Grabowski run), 8:15

G: Drew McCarthy 65 kickoff return (Jay Farkas run), 8:05

C: Jeff Nasson 27 FG, 0:15

Third quarter

G: Jay Farkas 40 run (run fails), 9:06

Fourth quarter

C: Talbot 68 run (Nasson kick), 3:01

Individual statistics

RUSHING: Gilbert – Paul Kurtz 2-minus 7, Jay Farkas 12-99, Bob Lippincott 1-minus 11, Devin Morgan 5-16, Cody Stone 7-67, Derrick Zima 1-1, Kyle Jones 1-2, Drew McCarthy 2-0; Canton – Luke Talbot 13-125, Mike Frazier 17-73, Nick Grabowski 11-28, Nick Quattro 1-minus 5, Kyle Bento 1-minus 1

PASSING: Gilbert – Kurtz 4-11-2, 38; Canton – Nick Grabowski 6-13-0, 79, Talbot 0-1

RECEIVING: Gilbert – Geoff Cerosoli 1-2, Stone 3-33; Canton – Tyler Plourd 4-48, Nick Quattro 1-11

SACKS: Nate Getler and Ethan Balavender (C) 1-10; Kyle Jones and Bobby Lippincott (G) 1-10; INTERCEPTIONS: Justin Prosser (Canton) 2-8; FUMBLE REC: Grabowski (Can), Balavender (Can), Nate Scott (Can), Talbot (Can), Farkas (G), Sean Fitzgerald (G)

RETURNS: Punts – Grabowski (Can) 1-2; Kickoffs – Plourd (Can) 3-69, Devin Morgan (G) 1-12, Cody Stone (G) 3-78, Drew McCarthy (G) 1-65

By GERRY deSIMAS, JR.

Canton Football Online

WINSTED, Nov. 22, 2008  – As quickly as the Gilbert School football team coughed up the ball Saturday at Van Why Field in Winsted, the visiting Warriors were intent upon making them pay.

On a cold, 20 degree afternoon with snow flurries swirling in the chilling wind, the host Yellowjackets were looking to get to .500 on the season with a victory over Canton and get in position to possibly earn their first winning season since 1993 with a win on Thanksgiving over arch-rival Housatonic.

Gilbert couldn't hold onto the ball long enough. The Yellowjackets turned the ball over five times in the first half (4 fumbles and one intereption) and Canton built a 28-point lead as the Warriors earned their second win of the season with a 38-14 victory. For the game, Gilbert had six turnovers.

The loss stunned Gilbert (4-6, 2-5 Pequot Uncas) which couldn't fathom losing to Canton (2-8, 2-6 Pequot Uncas), which snapped an eight-game losing streak.

"We were focused today and it showed," Canton coach Roger Pearl said. "We scored 38 points today. It is the best we have played this year."

Not only did Gilbert turn the ball over at will but they showed little respect for the Warriors, twice going for a first down on fourth down deep in its own territory.

Late in the first quarter, Gilbert trailed 14-0 thanks to a pair of lost fumbles. Facing fourth down and 1 on its own 22 yard line, the Yellowjackets gambled. But the handoff was bobbled in the biting cold and the ball hit the frozen turf, bouncing toward the Canton end zone. Ethan Balavender got a hand on it and nearly picked it up. But it was knocked away from him near the goal line. Teammate Nate Scott pounced on it for a touchdown and a 20-0 lead.

Trailing 28-8 in the final two minutes of the first half, Gilbert was facing a fourth down and three from their own 27 yard line. Jay Farkas's run up the middle was good for just two yards and the Warriors took over on the 29 with 1:27 left in the half.

QB Nick Grabowski gained three yards on first down and Canton got another 11 yards to the Gilbert 13 thanks to a late hit on Grabowski out-of-bounds. Three plays later, Jeff Nasson extended his own school record with a 27-yard field goal with 15 seconds left for a 31-8 lead at halftime.

Gilbert also committed 10 penalties for nearly 100 yards. One player was ejected for throwing a punch in the first quarter and a 64-yard touchdown run by Cody Stone around the outside on Gilbert's first offensive play of the game was negated due to a holding call.

"We came together as a team and we played together as a team," Pearl said. "We played like we are capable of playing."

Justin Prosser had a pair of interceptions while Grabowski, Luke Talbot, Scott and Balavender each recovered fumbles.

Talbot rushed for a career-high 125 yards and three TDs, including a 68-yard run in the fourth quarter. Mike Frazier had a TD and 73 yards on the ground. Tyler Plourd caught four passes for 48 yards.

Grabowski came up with the ball after Gilbert's first fumble early in the first half. Frazier had eight yards on a key fourth and one call at the Yellowjacket 34-yard line. A 15-yard unsportsmanlike conduct penalty moved the ball to the 14 where Talbot scored around the end.

On Gilbert's next possession, the Yellowjackets ran two plays before fumbling it away on the third to Balavender. Starting on the Gilbert 40, Canton scored in five plays capped off on a 15-yard run by Talbot. Grabowski's conversion run made it 14-0.

Canton recovered the fumble in the end zone for a 20-0 lead. On the first play of the second quarter, Talbot recovered a fourth Gilbert fumble on the Yellowjacket 37-yard line. A seven-play drive, including Frazier converting on a key fourth-and-one at the 16, was capped off by a two-yard run by Frazier. Grabowski's second conversion run made it 28-0 with 8:15 left in the first half.

Gilbert scored on a 65-yard kickoff return by Drew McCarthy in the second quarter and a 40-yard run by Farkas in the third quarter.

Canton capped off the victory with a 68-yard run down the right sideline by Talbot, who broke free of the line of scrimmage and tacklers and broke outside with 3:01 left in the game.

"This is how we should have been playing all season," Pearl said. "It took 10 weeks for the kids to do it. We came to play today."

It was Canton's first win over Gilbert since 1959 and the first victory ever at Van Why Field. They had lost to the Yellowjackets five times since then, excluding 1964 to 2006 when there was no varsity team in Canton.