Canton High Football online


This page was last updated: September 26, 2009
Canton High School

Canton, Connecticut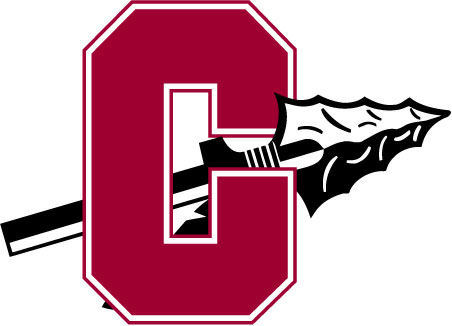 Keep away helps Coventry/WT outlast Warriors

Coventry/WT 27, Canton 7

At Coventry

Canton (0-2)

0  0    0  7 – 7
Coventry (1-1)        0  7  13  7 – 27

Second quarter

Cov/WT: Justin Gillette 4 run (John Chevalier kick), 3:35

Third quarter

Cov/WT: Steve Trottier 11 run (Chevalier kick), 6:14

Cov/WT: Trottier 8 run (kick fails), 1:34

Fourth quarter

Can: Mike Frazer 2 run (Jeff Nasson kick), 8:31

Cov/WT: Justin Gillette 2 run (Chevalier kick), 3:58

Individual statistics

RUSHING: Canton – Nick Grabowski 15-34, Mike Frazer 19-85, Greg Cole 1-minus 2, Peter Lewis 1-0; Coventry/WT –  Justin Gillette 28-101, Mike Fahey 6-0, Nick Follansber 5-16, Steve Trottier 14-106, 32 1-minus 2

PASSING: Canton – Nick Grabowski 7-18-2, 71; Coventry/WT –  Fahey 4-6-0, 49

RECEIVING: Canton – Greg Cole 1-5, Tyler Plourd 3-54, Nick Quattro 2-16, Peter Lewis 1-minus 4; Coventry/WT – Trottier 3-46, Gillette 1-3

RETURNS: Canton – Sean Mullins (kickoff) 2-15, Plourd (kickoff) 2-25; Coventry/WT – Gillette (kickoff) 1-11, Trottier (kickoff) 1-8

INTERCEPTIONS: Coventry/WT – Gillette 1-0, Shane Wilson 1-0

SACKS: Nick Follansebee (Cov/WT) 2-5

FUMBLE RECOVERY: Austin West (Cov/WT)

By GERRY deSIMAS, JR.

Collinsville Press

COVENTRY, Sept. 26 – Coventry/Windham Tech coach Tony Benito wanted to keep the offense of the Canton High football team off the field as much as possible Saturday in their Pequot Conference contest.

"We knew if (Canton) had enough opportunities (offensively) we would be in trouble," he said. "We're so tiny on defense I can't leave them out there all day."

Benito was more than pleased to keep Canton's defense on the field. His Patriots converted on seven of nine fourth down opportunities to lead Coventry/Windham Tech to a 27-7 victory over the Warriors (0-2, 0-2 Pequot Uncas).

Coventry had just a 7-0 lead at halftime. But in the third quarter, they held the ball for 10:10, ran 21 plays, gained 108 yards and scored two touchdowns to seize control of the contest. Canton's offense didn't run a play until there was just 1:28 left in the quarter.

In the pivotal third quarter, Coventry converted on fourth down three times, including one situation when the Patriots faced fourth down and eight yards to go. Coventry completed a 18-yard pass to keep the drive alive.

"No excuses," a disappointed Canton head coach Roger Pearl said. "We got outplayed. We had our opportunities but we didn't cash in."

Two interceptions by Canton QB Nick Grabowski snuffed out drives in the first half. And a bizarre play allowed Coventry to keep its initial scoring drive in the second quarter alive. Coventry QB Mike Fahey underthrew his receiver and Grabowski, playing defensive back, tipped the ball up in the air. He flew about five feet to his left to the waiting arms of Coventry's Steve Trottier, who pulled it in for a 27-yard completion.

Unlike its 12-7 season opening loss to Gilbert, Canton was able to earn some modest success running the football. Grabowski made some nice runs on scrambles while Mike Frazer bulled his way through the middle for 85 yards on 19 carries.

Coventry's first drive of the game died on the Canton one-yard line. Its second drive of 12 plays over 75 yards ate up nearly five minutes. After Gillette gained 10 yards on a fourth-and-3 from the Canton 14, he scored from the four to give the Patriots a 7-0 lead with 3:35 left in the first half.

Coventry ate up another 5:40 on its initial drive of the third quarter, marching 69 yards on 12 plays to score on Trottier's 11-yard run. The key plays were Gillette gaining three yards on a fourth-and-1 and Fahey completing a 18-yard pass to Trottier on a fourth-and-8.

On the kickoff, Coventry caught a break when they intentionally bounced the kick off the hard, grass field. The ball bounced to Canton junior Michael Nariani, who tried to scoop it up on a hop. The ball bounced off his hands, off his chest and back to the ground where Coventry's AustinWest recovered the ball on the Canton 39-yard line.

This time, the Patriots ate 4:30 off the clock, converting on a fourth-and-2 to keep the drive alive. Trottier scored on an eight-yard run with 1:34 left in the quarter for a 20-0 lead.

"That's our game plan," Bonito said. "We're a ball control team. We wanted to keep the ball away from their offense by any way possible." Gillette (28 carries, 101 yards) and Trottier (14-106) each scored two touchdowns for Coventry.

There was just 1:28 left in the third quarter when Canton got the ball and the Warriors marched down the field. On third-and-one, Grabowski (7-18-2, 71 yards) completed a 23-yard pass to Tyler Plourd (3-54 receiving). On fourth-and-1 from the Patriot 12, Frazer bulled his way up the middle for a first down.

Frazer scored from the two and Jeff Nasson added the extra point to cut the lead to 20-7 with 8:31 left in the game.

But Canton was penalized 15 yards for unsportsmanlike conduct on the touchdown play and had to kick off from the 25-yard line instead of the 40. The Patriots took over on the Warrior 45 and ate up five minutes on its 45-yard scoring drive to extend its lead to 27-7.

NOTES: Lineman Sean Mullins took two squib kicks on Coventry kickoffs and returned them for a total of 15 yards. … Grabowski was sacked twice by the Patriots. … Grabowski had 51 yards rushing at one point but lost 17 on Canton's final play when the center snap sailed way over his head. He finished with 34 yards on 15 carries. … Canton was penalized twice for unsportsmanlike conduct in the fourth quarter. …

              Canton High Football online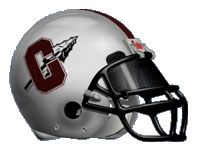 n Coventry's Stephen Trottier breaks up a pass intended for Canton's Nick Quattro (11) in the end zone.